Addiction is a craving, habit, or dependency, which often has temporary physical or emotional gratification, but in the long term is enslaving and destructive. Examples of addictions that people succumb to include alcohol, drugs, and pornography. Given the power of the Word of God, many people want to know what the Bible teaches about addiction.
Addiction to harmful substances and vices is sinful, according to the Bible. Addiction reflects the loss of self-control, satisfying the flesh in unhealthy and unholy ways, and erecting idols that replace God in a person's life. Addiction isn't an unforgivable sin and can be overcome through Jesus Christ.
What does the Bible say about the world, the flesh, and the devil in relation to addiction? What does it teach about self-control and overcoming temptation? Keep reading to learn the answers to these questions and others.
Addiction in the Bible: the world, the flesh, and the devil
In the Gospel of Matthew, Jesus teaches about people who value money more than anything else in life. The principle of what he says can easily be applied to addiction as well because addicts often value a habit or dependency more than anything else.
The point of what Jesus says in the verse is that a person can't have two things on the throne of their life. Matthew 6:24 reads, "No one can serve two masters, for either he will hate the one and love the other, or he will be devoted to the one and despise the other. You cannot serve God and money" (ESV).
In other words, either God or the addiction is in control. Either God or the addiction is sovereign. Either God or the addiction determines values, priorities, and choices. A person either surrenders to and worships God or their addiction.
Addictions satisfy the desires of the flesh. The human body isn't inherently sinful, but it's vulnerable to sin, just like the mind and heart.
1 John 2:16 reads, "For all that is in the world—the desires of the flesh and the desires of the eyes and pride in possessions—is not from the Father but is from the world." The Bible teaches that the world is fallen and its desires oppose God and his standards for people.
The enemy also seeks to enslave people to sin because then they won't be fully committed to God. Satan seeks people to target and tempts people to sin. 1 Peter 5:8 reads, "Be sober-minded; be watchful. Your adversary the devil prowls around like a roaring lion, seeking someone to devour."
Thankfully, Christians have victory in Christ over the world, the flesh, and the devil. 1 Corinthians 15:17 reads, "But thanks be to God, who gives us the victory through our Lord Jesus Christ." And Romans 8:37 teaches that "we are more than conquerors through him who loved us."
Addiction causes a person to relinquish self-control
"A man without self-control is like a city broken into and left without walls" (Proverbs 25:28). A person without self-control is vulnerable to sin, evil, and ultimately death. In contrast, one characteristic of a Godly person is exhibiting self-control.
The Bible commands people to not give up self-control. It doesn't matter if the substance or dependency has its origins in the natural world (e.g. marijuana, wine), has been fashioned in a kitchen or lab, or is accessed using technology. According to 1 Corinthians 6:12, doing so renders a person a slave.
| Translation | 1 Corinthians 6:12 |
| --- | --- |
| ESV | "All things are lawful for me," but not all things are helpful. "All things are lawful for me," but I will not be dominated by anything. |
| KJV | All things are lawful unto me, but all things are not expedient: all things are lawful for me, but I will not be brought under the power of any. |
| NASB | All things are lawful for me, but not all things are profitable. All things are lawful for me, but I will not be mastered by anything. |
| NIV | "I have the right to do anything," you say—but not everything is beneficial. "I have the right to do anything"—but I will not be mastered by anything. |
| NLT | You say, "I am allowed to do anything"—but not everything is good for you. And even though "I am allowed to do anything," I must not become a slave to anything. |
In a manner of speaking, addictions "save" people from the trials and tribulations of the world. Yet it's all an illusion. The relief it provides is temporary and destructive. Jesus is humanity's only true Savior (John 14:6; 1 Tim. 2:5).
Important Bible verses about self-control include:
Titus 1:8, "But hospitable, a lover of good, self-controlled, upright, holy, and disciplined."
Galatians 5:22-23, "But the fruit of the Spirit is love, joy, peace, patience, kindness, goodness, faithfulness, gentleness, self-control; against such things there is no law."
2 Timothy 1:7, "For God gave us a spirit not of fear but of power and love and self-control."
1 Peter 4:7, "The end of all things is at hand; therefore be self-controlled and sober-minded for the sake of your prayers."
2 Peter 1:5-6, "For this very reason, make every effort to supplement your faith with virtue, and virtue with knowledge, and knowledge with self-control, and self-control with steadfastness, and steadfastness with godliness"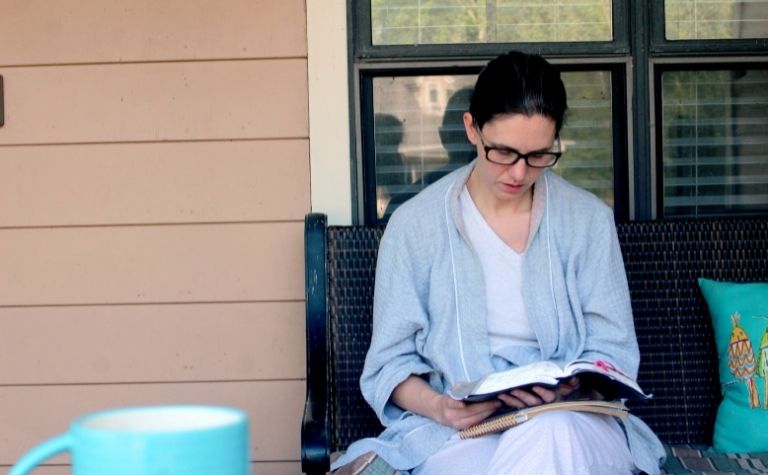 What does the Bible say about overcoming temptation?
Is self-control and self-dependence the same thing? Not according to Christian author and counselor Edward Welsh. The solution to addiction isn't will power, but relinquishing control to the Holy Spirit.
He writes, "Self-control is… not the same as self-dependence, in which we rely on personal will power to control ourselves. Instead, self-control is a gift of the Holy Spirit, given through faith in Jesus Christ… Self-control is a strategic countermeasure to the insatiable cravings of sin." (Addictions – A Banquet in the Grave, p. 212-213)
1 Corinthians 10:13, "No temptation has overtaken you that is not common to man. God is faithful, and he will not let you be tempted beyond your ability, but with the temptation he will also provide the way of escape, that you may be able to endure it."
James 4:7, "Submit yourselves therefore to God. Resist the devil, and he will flee from you."
Galatians 5:16, "But I say, walk by the Spirit, and you will not gratify the desires of the flesh."
Hebrews 2:18, "For because he himself has suffered when tempted, he is able to help those who are being tempted."
Related Articles
link to What Does the Bible Teach About Crystals?
When people think of crystals, they often imagine a colorful, glass-like mineral that has both flat and rigid surfaces. Some people like the look of crystals so much that they use them to decorate...
link to What Does the Bible Say About Drugs?
Substance abuse, whether in the form of drugs or alcohol, is a serious problem in many parts of the world. Drugs provide a dangerous momentary release from the world and its problems, but they...