Baptism is important to every branch of the Christian faith, and as the title of their tradition suggests, it is central to Baptist beliefs and practices. It is significant because Jesus was baptized (Matt. 3:13-17) and told people to baptize others (Matt. 28:18-20). But is it necessary for salvation?
Baptists don't believe baptism is necessary for salvation. According to their historic confessions and modern-day teachings, Baptist traditions believe that baptism is important to be like Christ, obey his instructions, and mature as a disciple. Baptists are baptized because they are saved, not to be saved.
What exactly does baptism accomplish, according to Baptist theology? If baptism doesn't symbolize cleansing from sin, what does it symbolize? Who should be baptized and when? Keep reading to learn more.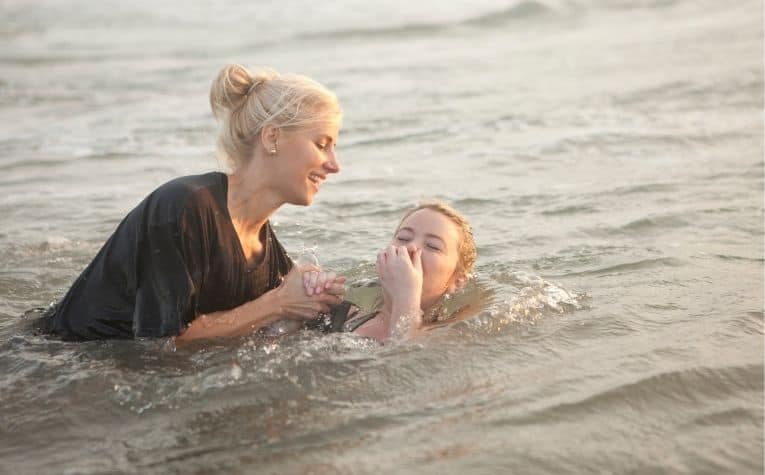 Baptism In the Baptist Tradition
Baptist beliefs about baptism are similar to other branches of the Christian faith, but they have important differences, too.
All Christians recognize how important the New Testament's teachings on baptism are, but they disagree on what the act signifies and the application of it in churches.
Key term | Baptist tradition: The title "Baptist" doesn't describe one Christian denomination but several. Collectively, these denominations can be referred to as the "Baptist tradition."
The largest Baptist denomination in the Southern Baptist Convention. Historically, Baptist denominations agree about who should be baptized and how, but they may disagree on other matters.
Historically, the founders of the Baptist movement in 17th-century Europe disagreed with how other churches were administering baptism. They took issue with who was being baptized and how. (Also see What Bible Translation Do Baptists Read?)
Baptism means union with Christ
Baptism to Baptists is an expression of their faith in Christ. It isn't about doing a "good work" or automatically getting going to heaven upon death. Baptism to Baptists is inseparably connected to an individual's relationship with Christ. (Also, see What's the Difference Between First Baptist and Second Baptist?)
The importance of Romans 6:3-4: For Baptists, Romans 6:3-4 is an important passage to understand. In it, the Apostle Paul describes the meaning of baptism for Christians.
"Do you not know that all of us who have been baptized into Christ Jesus were baptized into his death? We were buried therefore with him by baptism into death, in order that, just as Christ was raised from the dead by the glory of the Father, we too might walk in newness of life." (Romans 6:3-4, ESV)
While the word "water" isn't mentioned in these verses, it underlies the significance of what Paul teaches in this passage. Here is how Baptists understand what Romans 6:3-4 teaches:
When a person is fully immersed in water at baptism, it is symbolic of death. The person's life prior to Christ is buried and ceases to exist. Being immersed in the water is a picture of what Paul elaborates on in Romans 6:6, "…our old self was crucified with him…" (ESV)
When the full-immersed person is raised out of the water at baptism, it is symbolic of new life, which Christ enables, empowers, and sustains. Paul elaborates on this reality in Galatians 2:20, "I have been crucified with Christ. It is no longer I who live, but Christ who lives in me." (ESV)
Colossians 2:12 also teaches this imagery: "Having been buried with him in baptism, in which you were also raised with him through faith in the powerful working of God, who raised him from the dead." (ESV)
The importance of full immersion
To Baptists, full-immersion baptism, as opposed to having water sprinkled or poured on the head, is important because (1) it best fulfills the imagery Paul describes in Romans 6:3-4, and (2) many people point out that full-immersion is illustrated multiple times in the New Testament (Acts 8:36-38), including Jesus' baptism (Matt. 3:13-17) while sprinkling or pouring isn't. (Also see What Does First Baptist Mean?)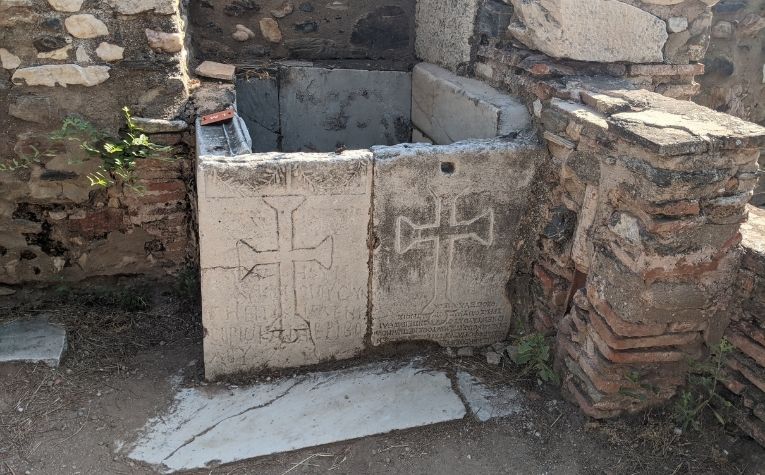 What About Cleansing From Sin?
Doesn't baptism illustrate cleansing from sin? Some people interpret Bible verses that refer to water cleansing people from sin as teaching that baptism saves people. Key verses in this discussion include:
Titus 3:5, "[Christ] saved us, not because of works done by us in righteousness, but according to his own mercy, by the washing of regeneration and renewal of the Holy Spirit…" (ESV, emphasis added) (Also see Do Baptists Believe Jesus is God?)
Acts 22:16, "And now why do you wait? Rise and be baptized and wash away your sins, calling on his name." (ESV, emphasis added)
How do Baptists explain this? Baptist theologians argue that the "washing" imagery occurs at conversion. It's not the baptism water itself that cleanses because that is a material substance, while sin and rebellion against God are not physical in nature. In other words, the verses describe the reality of forgiveness and cleansing (cf. 1 John 1:9). (Also see This Is What Baptists Believe About Salvation)
What about 1 Peter 3:21? Roman Catholic theologians, among others, teach that baptism and salvation are connected more than the Baptist tradition acknowledges or believes.
The verse reads, "Baptism, which corresponds to this, now saves you, not as a removal of dirt from the body but as an appeal to God for a good conscience, through the resurrection of Jesus Christ." (1 Peter 3:21, ESV, emphasis added)
A leading Baptist theologian explains the verse this way: "Does this not give clear support to the Roman Catholic view that baptism itself brings saving grace to the recipient?"
"No, for when Peter uses this phrase he continues in the same sentence to explain exactly what he means by it. He says that baptism saves you 'not as a removal of dirt from the body' (that is, not as an outward, physical act which washes dirt from the body — that is not the part which saves you), 'but as an appeal to God for a clear conscience' (that is, as an inward, spiritual transaction between God and the individual, a transaction symbolized by the outward ceremony of baptism)." Wayne Grudem, Systematic Theology, p. 974, emphasizes the author's)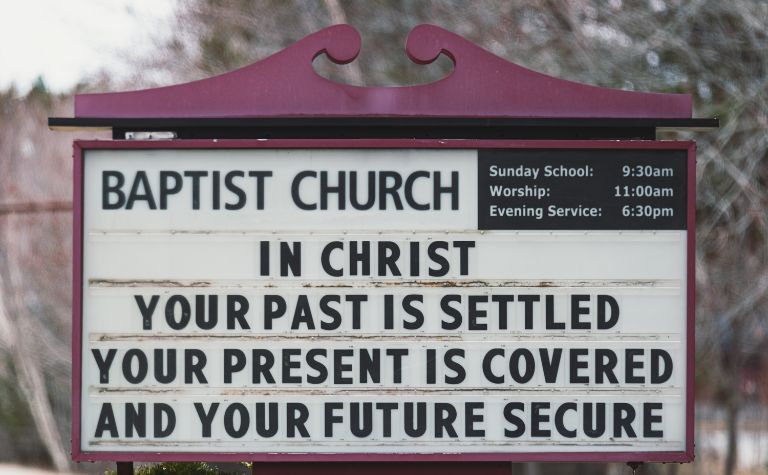 Who Should Be Baptized According to Baptists?
Baptists believe that those who have converted to Christianity, that is, those who have decided to follow Christ, should be baptized. Verses like the ones below teach that the newly converted are baptism candidates:
Acts 2:41, "So those who received his word were baptized, and there were added that day about three thousand souls." (emphasis added)
Acts 8:12, "But when they believed Philip as he preached good news about the kingdom of God and the name of Jesus Christ, they were baptized, both men and women." (emphasis added)
Acts 10:47-48, "'Can anyone withhold water for baptizing these people, who have received the Holy Spirit just as we have?' And he commanded them to be baptized in the name of Jesus Christ. Then they asked him to remain for some days." (emphasis added) (Also see Can Baptists Dance?)
The Baptist vs. Catholic View on Baptism
| | |
| --- | --- |
| Baptist view | baptism isn't necessary for salvation |
| Catholic view | baptism is necessary for salvation |
From The Baptist Faith and Message: "Christian baptism is the immersion of a believer in water in the name of the Father, the Son, and the Holy Spirit. It is an act of obedience symbolizing the believer's faith in a crucified, buried, and risen Savior, the believer's death to sin, the burial of the old life, and the resurrection to walk in newness of life in Christ Jesus." [2] (The Baptist Faith and Message)
From The Catechism of the Catholic Church: "This sacrament is also called "the washing of regeneration and renewal by the Holy Spirit," for it signifies and actually brings about the birth of water and the Spirit without which no one "can enter the kingdom of God." [2] (Catechism of the Catholic Church)
References:
[1] Source
[2] Source
[3] Source
Related Questions