People love their pets. Relative to human life spans, the life span of many domesticated animals is short. People get to have pets like cats for 10 to 15, and sometimes longer before they die. When cats die, some owners wonder if they will ever see them again in heaven.
The Bible doesn't directly state that cats go to heaven when they die, but some prominent theologians and pastors believe they do. The Bible is clear that animals will be on the New Earth, including members of the cat family, but the question is whether the pets people have owned go to heaven when they die.
Does the Bible teach that there will be animals in heaven? Does it mention domestic cats at all? Why do some pastors and theologians believe that pets go to heaven when they die? Keep reading to learn the answers to these questions and others.
Also see Can People With Tattoos Go to Heaven? learn more.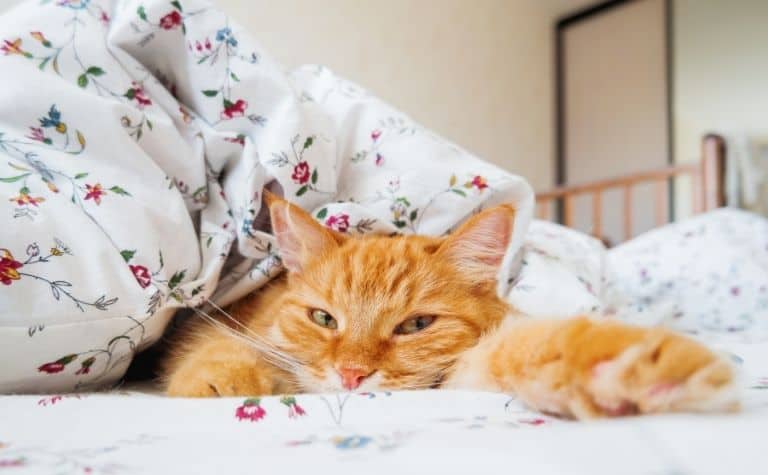 Does the Bible teach that there will there be animals in heaven?
Before addressing the question about whether or not pets, like cats, go to heaven, it would be helpful to note the verses and passages from the Bible that teach that animals, in general, will be in heaven.
Most scholars agree that while heaven is sometimes depicted with poetic descriptions in the Bible, readers should interpret the presence of animals literally. Below are five commonly-referenced verses that teach that animals are in heaven.
Isaiah 65:25, "The wolf and the lamb shall graze together; the lion shall eat straw like the ox, and dust shall be the serpent's food. They shall not hurt or destroy in all my holy mountain," says the Lord. (ESV)
Revelation 19:11, "Then I saw heaven opened, and behold, a white horse! The one sitting on it is called Faithful and True, and in righteousness he judges and makes war." (ESV)
Romans 8:21-22, "That the creation itself will be set free from its bondage to corruption and obtain the freedom of the glory of the children of God. For we know that the whole creation has been groaning together in the pains of childbirth until now." (ESV)
2 Kings 2:11, "And as they still went on and talked, behold, chariots of fire and horses of fire separated the two of them. And Elijah went up by a whirlwind into heaven." (ESV)
Psalm 36:6, "Your righteousness is like the mountains of God; your judgments are like the great deep; man and beast you save, O Lord." (ESV)
What is the nature of the New Earth at the end of time? The Bible teaches that people will live on a New Earth (2 Pet. 3:10-13, Rev. 21:1-5, Isa. 65:17-19, 66:22). The Bible's phrase "New Earth" suggests that something about it will be different because it will be "new," and something about it will be the same because it's still the "Earth."
This aligns with verses like Isaiah 65:25 (quoted above). The wolf is still the same animal as it was on the Old Earth (i.e., it's still a wolf). However, the wolf is also different because it's not attacking the lamb.
"But according to his promise we are waiting for new heavens and a new earth in which righteousness dwells."

2 Peter 3:13 (ESV)
Why will animals be on the New Earth? Animals glorify God. They are part of God's creation, which reflects his attributes (Rom. 1:19-20). Animal life was a prominent aspect of God's creation, which he called good multiple times (e.g. Gen. 1:25).
After the Fall, animals suffered because of sin. Yet, animals didn't rebel against their Creator; people did. Animals were innocent victims of people's rebellion against God (Rom. 8:21).
Also see Will You Remember Your Family In Heaven? learn more.
Why do some believe cats go to heaven when they die?
Animals are God's creation and the innocent victims of people's sin. Repeatedly in the Bible, animals are referred to as God's. For example, Psalm 104:24 reads, "O Lord, how manifold are your works! In wisdom have you made them all; the earth is full of your creatures" (ESV, emphasis added). Psalm 104:27 adds that animals look to their Creator for provision, "These all look to you, to give them their food in due season" (emphasis added).
Did Jesus die for cats? No. Jesus died for people. But like cats were swept up in the Fall, even though they didn't sin, perhaps they get "swept up" in redemption. Some scholars believe this is the implication for creation from the Apostle Paul's teaching in Romans 8:21-22).
There will be future freedom for animals in bondage. Romans 8:21-22 (quoted above) states that all of creation, which includes animals, are currently in bondage due to people's sin, but will one day be set free because of Jesus Christ. If God creates new animals for the New Earth, they would have never been in bondage to sin. The animals that will one day be free from the effects of sin are currently in bondage on the present Earth.
A former pastor and current theologian, Randy Alcorn writes,
The question of whether pets will be in Heaven is not, as some assume, stupid. Animals aren't nearly as valuable as people, but God is their Maker and has touched many people's lives through them. It would be simple for him to re-create a pet in Heaven if he wants to. He's the giver of all good things, not the taker of them. If it would please us to have a pet restored to the New Earth, that may be sufficient reason. [1]
Alcorn admits that he isn't positive that pets like cats go to heaven when they die, but he suspects they do. Author Joni Eareckson Tada agrees: "If God brings our pets back to life, it wouldn't surprise me. It would be just like Him. It would be totally keeping with His generous character."
Also see Who Went to Heaven Without Dying? learn more.
Are cats mentioned in the Bible?
Domestic cats aren't mentioned in the Bible. Other animals that belong to the cat family are mentioned, like lions and leopards.
Lions: Revelation 5:15 is an example, "And one of the elders said to me, 'Weep no more; behold, the Lion of the tribe of Judah, the Root of David, has conquered, so that he can open the scroll and its seven seals'" (ESV). A lion is also used to describe Satan in 1 Peter 5:8, "Be sober-minded; be watchful. Your adversary the devil prowls around like a roaring lion, seeking someone to devour" (ESV).
Leopard: Jeremiah 13:23 is an example, "Can the Ethiopian change his skin or the leopard his spots? Then also you can do good who are accustomed to do evil" (ESV).
Why aren't domestic cats mentioned in the Bible? Domestic cats are implied in passages that refer to all of creation, such as Genesis 1. The magnificence of large animals like lions and leopards make for good metaphors, as opposed to domestic cats.
Also see Do Protestants Believe Catholics Go to Heaven? learn more.
References:
[1] Heaven by Randy Alcorn, p. 385.
[2] Source
[3] Source
[4] Source
Recent Posts
link to Was Jesus Born in March?
Every year, millions around the globe commemorate the birth of Jesus Christ on December 25th, a date synonymous with Christmas and festive celebrations. However, despite its widespread...
link to What Does Nativity Mean?
The term "Nativity" is often immediately associated with the birth of Jesus Christ and the stories surrounding this event. Yet, the essence of the word encompasses much more than a single...