Fear, which is often defined as an emotion, is commonly made up of feelings like anxiety, helplessness, and a sense of inevitable doom. People fear getting hurt, experiencing loss, the unknown, and a variety of other things. Fear is common to the human experience, no matter one's gender, race, culture, or social status. It's an important topic in the Bible as well.
When fear is an expression of unbelief or distrust in God's nature, character, or promises, it is sin. Other expressions of fear aren't sinful, like when a child is scared of the dark or when an adult is afraid as a result of trauma. The Bible teaches that the fear of the Lord is the beginning of wisdom (Pro. 9:10).
What are some examples of holy fear and sinful fear? What should a person do if they realize their fears are sinful? What does it mean to fear the Lord? What are some important Bible verses about fear? Keep reading to learn the answers to these questions and others.
Also see Does the Bible Say Jealousy Is A Sin? to learn more.
What does the Bible teach about fear?
Unholy fear is physically, emotionally, and spiritually unhealthy. It often manifests as depression and anxiety in relation to health problems, safety concerns, financial crisis, and other potentially painful, traumatizing, and life-changing tragedies. Some fears are based on real events, but many are hypothetical in nature.
What is an example of a fear that is based on real events? One person may fear their financial future when the Stock Market crashes. Another may be afraid to receive the results of their medicinal tests. Yet another person may be scared that they can't pay their rent or mortgage because they got laid off from their job. In these examples, these fears aren't imagined, but actual tragic events.
While God extends mercy, grace, and compassion when his children experience trials, fear that disbelieves who God is or what the Bible teaches about him, it is sin. Edward Welch writes, "Fear always asks the same questions: 'Who will you trust? Where will you turn when you are afraid or anxious.' The story of Scripture is one in which God demonstrates himself to be trustworthy, and then invites wary people to trust him." [1]
What is an example of a fear that is based on a hypothetical scenario? Some people are fearful that the Stock Market might crash (even though it hasn't), or that they might have a deadly disease (even though they don't), or that they might lose their job (even though they haven't). This expression of fear, which is heavily infused with feelings of paranoia or hypochondria, can paralyze a person.
Psalm 28:1 contrasts a wicked person and a righteous person. "The wicked flee when no one pursues, but the righteous are bold as a lion. "The wicked person is paranoid and runs away even though no one is chasing them because their fears dominate their thinking and dictate their actions. The righteous person is courageous in the face of potential threats.
The 19th century English preacher Charles Spurgeon once said, "The worst evils of life are those which do not exist except in our imagination. If we had no troubles but real troubles, we should not have a tenth part of our present sorrows."
Jesus told his followers not to be anxious or worried about tomorrow (Matt. 6:25). Paul taught Christians not to be anxious about anything, but Peter said if they do they should give their concerns to God in prayer (1 Peter 5:7). Fearing hypothetical occurrences should be fought with prayer, studying Scripture, the Holy Spirit, and receiving Godly counsel from a pastor or Christian counselor.
"The fear of the Lord tends to take away all other fears… This is the secret of Christian courage and boldness." ~ Sinclair Ferguson
Also see Does the Bible Say Sloth Is A Sin? to learn more.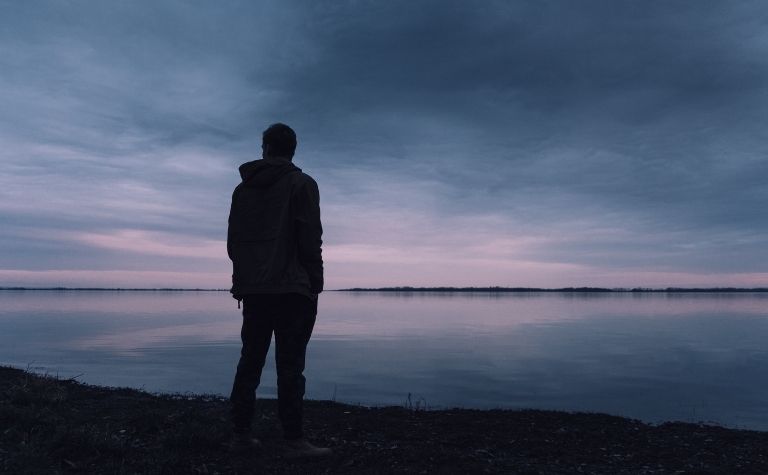 What are some examples of fear not being sinful?
Fear isn't always an expression of disbelief or distrust in God. First and foremost, the Bible encourages believers to fear the Lord (Deut. 6:13, 10:20; 2 Chron. 19:7; Mic. 6:9; Prov. 3:7, 24:21).
Sometimes fear isn't associated with a conscious distrust of God, like a child being afraid of the dark. Other times fear is the result of trauma, which is a wound that needs to be ministered to, comforted, and counseled, but not confessed as an act of rebellion against God.
It's also important to remember that certain sayings associated with the word fear in the English language may have nuanced meanings. For example, if someone says the phrase "I'm afraid so," they aren't expressing fear, but sadness or regret.
The word "afraid" also has more than one meaning. If a child tells their mother they want to do something dangerous, she might respond "No, I'd be scared that you could get seriously injured." In this case, the mother is being a good parent, not expressing disbelief in God.
Biblical examples of holy fear
| Person | Key Verse |
| --- | --- |
| Abraham | Genesis 22:12, "He said, 'Do not lay your hand on the boy or do anything to him, for now I know that you fear God, seeing you have not withheld your son, your only son, from me.'" |
| Jacob | Genesis 28:17, "And he was afraid and said, 'How awesome is this place! This is none other than the house of God, and this is the gate of heaven.'" |
| Hebrew midwives | Exodus 1:17, "But the midwives feared God and did not do as the king of Egypt commanded them, but let the male children live." |
| Nehemiah | Nehemiah 5:15, "The former governors who were before me laid heavy burdens on the people and took from them for their daily ration forty shekels of silver. Even their servants lorded it over the people. But I did not do so, because of the fear of God." |
| Job | Job 1:8, "And the LORD said to Satan, 'Have you considered my servant Job, that there is none like him on the earth, a blameless and upright man, who fears God and turns away from evil?'" |
| David | Psalm 119:38, "Confirm to your servant your promise, that you may be feared." |
| Hezekiah | Jeremiah 29:16, "Did Hezekiah king of Judah and all Judah put him to death? Did he not fear the LORD and entreat the favor of the LORD, and did not the LORD relent of the disaster that he had pronounced against them? But we are about to bring great disaster upon ourselves." |
| The women at the empty tomb | Matthew 28:8, "So they departed quickly from the tomb with fear and great joy, and ran to tell his disciples." |
| Cornelius | Acts 10:2, "a devout man who feared God with all his household, gave alms generously to the people, and prayed continually to God." |
| Noah | Hebrews 11:7, "By faith Noah, being warned by God concerning events as yet unseen, in reverent fear constructed an ark for the saving of his household. By this he condemned the world and became an heir of the righteousness that comes by faith." |
"We don't fear God because He's bad. We stand in utter awe before Him because He's so good it's scary." ~ J. Budziszewski
Also see What Does the Bible Say About Manifestation? to learn more.
What are some examples of fear that is sinful?
When a person believes that their fear is sinful, they should confess it to God. God's kindness leads people to repentance (Rom. 2:4). They can trust him to forgive them, as 1 John 1:9 reads, "If we confess our sins, he is faithful and just to forgive us our sins and to cleanse us from all unrighteousness." (ESV)
| Person | Key Verse |
| --- | --- |
| Adam | Genesis 3:12, "The man said, 'The woman whom you gave to be with me, she gave me fruit of the tree, and I ate.'" |
| Abraham | Genesis 26:7, "When the men of the place asked him about his wife, he said, 'She is my sister,' for he feared to say, 'My wife,' thinking, 'lest the men of the place should kill me because of Rebekah,' because she was attractive in appearance." |
| The 10 Spies | Numbers 13:32, "So they brought to the people of Israel a bad report of the land that they had spied out, saying, "The land, through which we have gone to spy it out, is a land that devours its inhabitants, and all the people that we saw in it are of great height." |
| 20,000 men | Judges 7:3, "Now therefore proclaim in the ears of the people, saying, 'Whoever is fearful and trembling, let him return home and hurry away from Mount Gilead.' Then 22,000 of the people returned, and 10,000 remained." |
| The Disciples | Matthew 8:26, "'You of little faith,' Jesus replied, 'why are you so afraid?' Then He got up and rebuked the winds and the sea, and it was perfectly calm." |
| The guards at the empty tomb | Matthew 28:4, "And for fear of him the guards trembled and became like dead men." |
What does it mean to fear the Lord?
For believers fearing the Lord isn't being afraid of him like a child might fear a stranger. It's not to be paranoid about what God might do. Fearing the Lord is to revere him in his holiness and glory, as foremost expressed through his son Jesus Christ. Fearing God is expressed as obedience, devotion, worship, relationship, and holiness in the Christian life.
Paul David Tripp writes, "To fear God means that my life is structured by a sense of awe, worship, and obedience that flows out of recognizing Him and His glory. He becomes the single most important reference point for all that I desire, think, do, and say. God is my motive and God is my goal. The fear of God is meant to be the central organizing force in my life." [2]
Also see Does the Bible Say Suicide Is Sin? to learn more.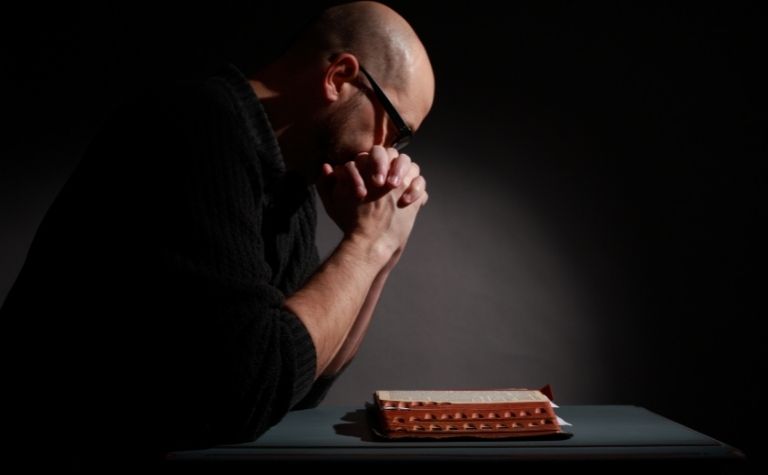 Bible Verses About Fear
| Old Testament Words for Fear | New Testament Words for Fear |
| --- | --- |
| Hebrew words: yirah and yare | Greek words: phobos and phobeo |
| Meaning: fear, dread, terror, reverence, awe | Meaning: terror, alarm, reverence, respect |
Isaiah 41:10, "Fear not, for I am with you; be not dismayed, for I am your God; I will strengthen you, I will help you, I will uphold you with my righteous right hand."
Philippians 4:6-7, "Do not be anxious about anything, but in everything by prayer and supplication with thanksgiving let your requests be made known to God. And the peace of God, which surpasses all understanding, will guard your hearts and your minds in Christ Jesus."
Psalm 56:3, "When I am afraid, I put my trust in you."
2 Timothy 1:7, "For God gave us a spirit not of fear but of power and love and self-control."
Deuteronomy 31:6, "Be strong and courageous. Do not fear or be in dread of them, for it is the Lord your God who goes with you. He will not leave you or forsake you."
Psalm 34:4, "I sought the Lord, and he answered me and delivered me from all my fears."
1 Peter 5:6-7, "Humble yourselves, therefore, under the mighty hand of God so that at the proper time he may exalt you, casting all your anxieties on him, because he cares for you."
Joshua 1:9, "Have I not commanded you? Be strong and courageous. Do not be frightened, and do not be dismayed, for the Lord your God is with you wherever you go."
1 John 4:18, "There is no fear in love, but perfect love casts out fear. For fear has to do with punishment, and whoever fears has not been perfected in love."
Eric Alexander writes, "The fear of the Lord is just the proper reaction of sinners to God's infinite holiness, or of creatures to God's infinite majesty. As we grow in the knowledge of God, we will learn truly to tremble before His great glory and burning purity, and see this as indeed the beginning of wisdom." [3]
Also see Is Masturbation Sinful? Two Views to learn more.
References:
[1] Depression by Edward Welch. p. 130.
[2] Age of Opportunity by Paul David Tripp. p. 118-119
[3] Feed My Sheep, ed. Don Kistler. p. 232.
Related Articles
link to What Is the Sin That Leads To Death?
1 John 5:16 makes a distinction between a sin that leads to death and a sin that doesn't. This description confuses some readers and troubles others. That there is a "sin that leads to death" raises...
link to What Is the Sin of Sloth? [The 7 Deadly Sins]
Sloth has always been an especially notorious sin in the Christian church because it's a behavior (or lack thereof) that is highlighted in the Bible as ungodly. Sloth is even one of the Seven Deadly...