Mennonites are known for their Christian faith, conservative lifestyle, authentic kindness, and distaste for extravagance. Though Mennonites tend not to separate from society as much as their like-minded Amish friends do, they are more traditional than most in society. One question a lot of people have about Mennonites is whether or not they celebrate Christmas.
Mennonites celebrate Christmas, albeit not in the same way that much of society does. For example, they focus on material simplicity and prayerful reflection. However, what's most important to them is celebrating the birth of Jesus Christ and doing so with family and friends.
Do Mennonites believe in the virgin birth of Jesus Christ? Do Mennonites have Christmas trees? What is a Mennonite Christmas like? What else do Mennonites believe? Keep reading to learn the answers to these questions and more.
Also see Do Amish Celebrate Thanksgiving? to learn more.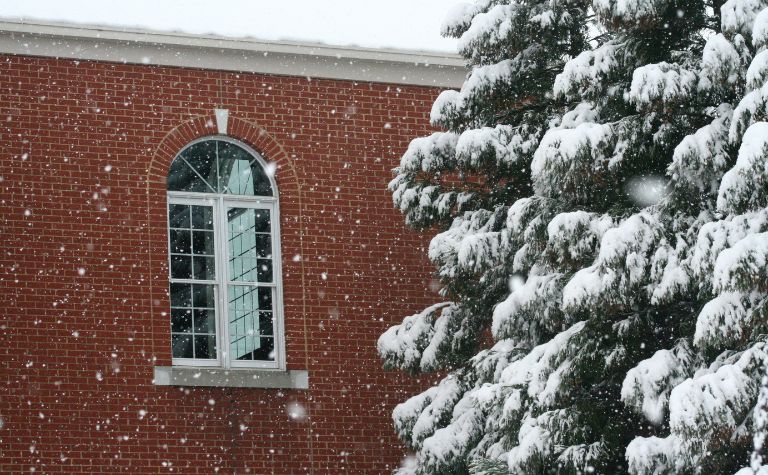 Do Mennonites believe in the virgin birth of Jesus Christ?
Mennonites believe in the virgin birth of Jesus Christ as described in the New Testament Gospels of Matthew and Luke. They believe that Mary gave birth to Jesus and that those who believe that he died on the cross for all of humanity's sins, including their own, will have eternal life.
Matthew 1:18, "Now the birth of Jesus Christe took place in this way. When his mother Mary had been betrothed to Joseph, before they came together she was found to be with child from the Holy Spirit."
Luke 2:7, "And she gave birth to her firstborn son and wrapped him in swaddling cloths and laid him in a manger, because there was no place for them in the inn."
The virgin birth is important to Mennonites, yet its only one aspect of the incarnation. [1] In the person of Jesus of Nazareth, God himself took on human flesh.
Like other Christians, Mennonites believe that John 1:14 refers to Jesus: "And the Word became flesh and dwelt among us, and we have seen his glory, glory as of the only Son from the Father, full of grace and truth" (ESV).
What else do Mennonites believe?
The Trinity: Mennonites believe that the Father, Son, and Holy Spirit are each fully God. [2]
Kindness and love. Mennonites are encouraged to do their best to be gentle and love others regardless of race, social class, or worldview. They value kind deeds and treat everyone with respect.
Living a simple life. Mennonites live frugal lives and do not take extravagant vacations, live in luxurious mansions, or dress in the latest fashions. Mennonite women dress modestly (e.g. they wear closed shoes). Some conservative Mennonite women wear small head coverings. Mennonite men wear store-bought pants and plain or plaid shirts.
Evangelism. Mennonites believe that Jesus came to save humanity from their sins. Spreading the word about Jesus' salvation is a core aspect of the Mennonite faith, and they are happy to tell others about their beliefs.
Having strong morals. Mennonites have strong belief systems and strive to live their lives according to the Bible. They value morality over politics and often do not vote if it means going against their beliefs.
Living in harmony with others. Mennonites are pacifists and do not believe in war. For this reason, they do not celebrate holidays like Veterans Day. They will not participate in activities that could harm others and prefer peaceful intervention methods when dealing with problematic community members.
Sacrificially serving the community. A central part of the Mennonite faith is sacrificially helping others by giving time, offering skills to the church, and running errands for the elderly or sick. Mennonites will not think twice about giving up their leisure time to help someone in need.
Being good stewards of one's gifts. Mennonites believe it is important to make the most out of the gifts God has blessed them with. They believe that if someone is faithful and works hard with few resources, God will bless that person with much more one day.
Also see Do Amish Shop At Walmart? to learn more.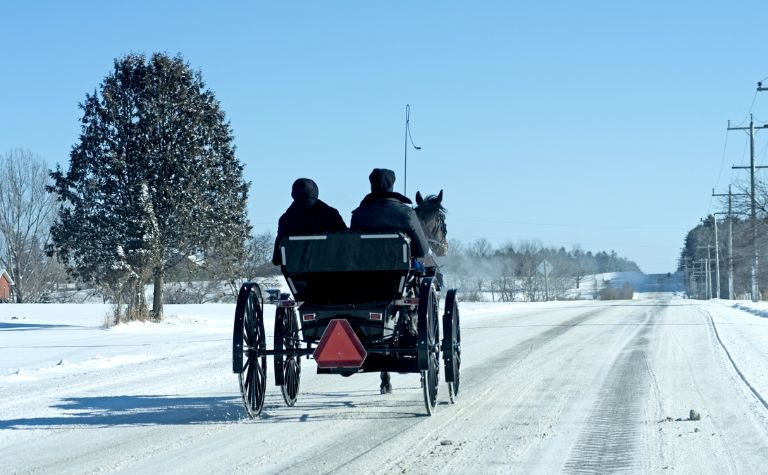 Do Mennonites Have Christmas Trees?
Mennonites do not typically have Christmas trees, but less traditional Mennonites sometimes have plainly-decorated ones in their homes. They also do not decorate for Christmas.
Christmas is an important holiday for Mennonites, but Easter is even more important. On Good Friday and Easter Sunday, they attend church services. [3]
Mennonites also do not believe in Santa Claus, elves, and certain mainstream Christmas traditions, such as hanging lights or going Christmas shopping. They believe these traditions have pagan roots and have no place in their faith. [4]
What is a Mennonite Christmas like?
A Mennonite Christmas is a simple affair with Mennonite churches giving sermons on Jesus' birth and families and friends getting together for a meal. Mennonites sing Christmas carols but do not listen to or sing commercial Christmas music.
Christmas is simple
For Mennonites, Christmas is a simple affair and a time of quiet reflection. They do little to celebrate extravagantly, apart from attending church services and enjoying a meal with friends and family. On Christmas, Mennonite church sermons focus on the birth of Jesus and what it means for humans.
Mennonite churches sometimes put on low-key Christmas programs with children enacting the nativity scene and church members acting out the scenes leading up to Jesus' birth. [5]
Also see Do Amish Women Shave? to learn more.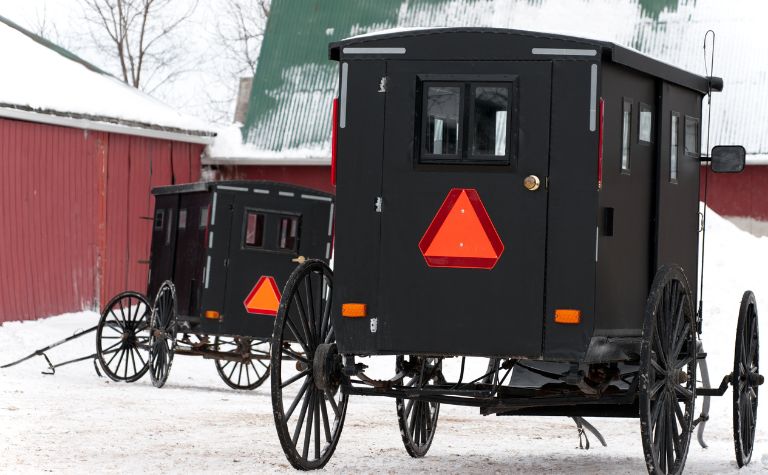 Christmas Meals
On Christmas Eve or Christmas Day, Mennonites gather in each other's homes to enjoy a Christmas meal. Their Christmas meals are similar to those prepared by the rest of the community, and typically include:
Roast chicken or turkey
Roast or mashed potatoes
Hot rolls
Hot vegetables
Fruitcake or trifle for dessert
Mennonites have a strong sense of community, and each adult attending the meal will typically contribute a dish to it.
Mennonites view the Christmas meal as an opportunity to spend quality time with loved ones and to reflect on the past year. After the Christmas meal, they teach young children about the true meaning of Christmas and will read or tell them stories.
Christmas Carols
Mennonites sing Christmas carols at home and church but will not listen to or sign commercialized Christmas music. [6] For Mennonites, Christmas carols are meaningful hymns and an opportunity for them to celebrate Jesus' birth.
Some common examples of Christmas carols Mennonites sing include:
O Holy Night
Silent Night
Hark the Herald Angels Sing
O Come, O Come Emmanuel
Giving Simple Gifts
Progressive Mennonites sometimes give each other one simple and practical gift. This can include a new, plain handkerchief or a fruitcake to share with the family.
In many Mennonite households, parents place a large bowl in a central place on Christmas Eve. During the night, they fill the bowl with a simple gift for each child to find in the morning.
More traditional Mennonites won't give each other gifts at Christmas, except for giving children a piece of citrus fruit.
Also see Do Amish Speak Yiddish? to learn more.
Related Questions