Study Bibles are helpful because they provide a range of features that enhance the reading and understanding of the Bible. They include features like explanatory notes, cross-references, concordances, maps, charts, timelines, and supplementary articles.
Top 3 General Study Bibles
The top three Study Bibles have broad appeal to Christians in different traditions and churches, which is why they have so many readers. They are in no particular order. Other Study Bibles are written by popular pastors and personalities (see below).
1. NIV Study Bible
The NIV Study Bible incorporates the NIV text and provides a range of resources to aid readers in studying and understanding the biblical text.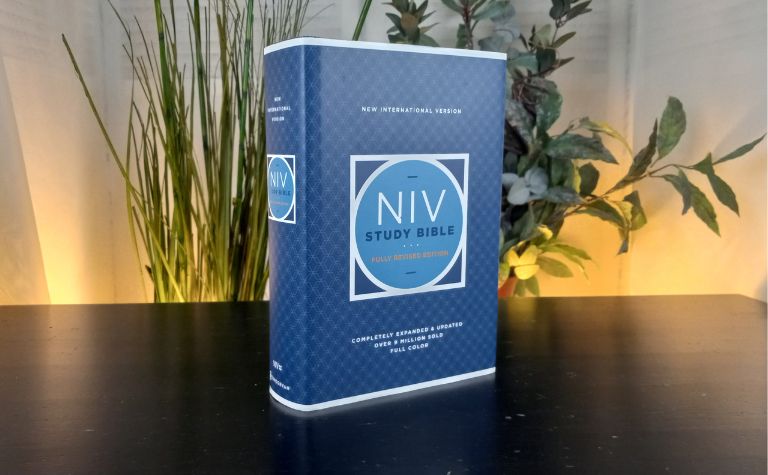 A recently-revised favorite with new features
The study Bible contains extensive study notes written by a team of scholars. These notes provide explanations, insights, and background information for specific verses and passages. They help readers grasp the biblical text's meaning, context, and application.
The NIV Study Bible features include thousands of notes, book introductions, cross-references, maps, charts, illustrations, articles, a concordance, and a full-color design.
2. ESV Study Bible
The ESV Study Bible is a popular resource that provides readers with a comprehensive and in-depth understanding of the biblical text. "ESV" stands for English Standard Version, which is a modern English translation known for its accuracy and readability.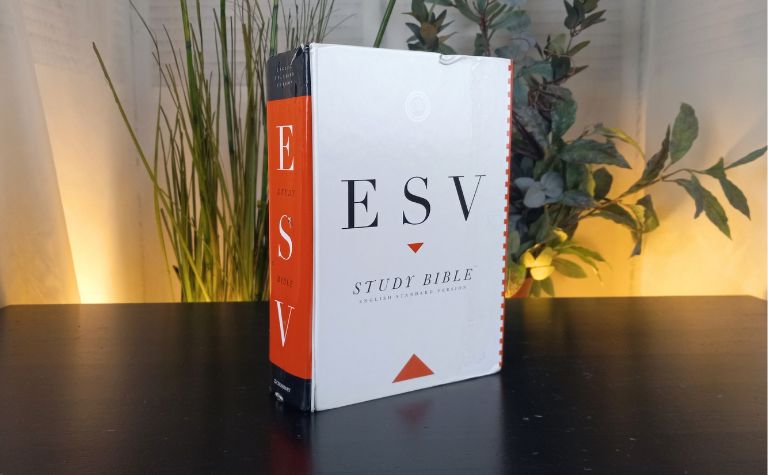 The ESV Study Bible has 20,000 notes and 200 articles
It contains over 20,000 notes, has over 80,000 cross-references, and includes over 200 charts, 240 maps, and 50 full-length articles. It features over 200 articles and essays on various topics. The ESV Study Bible won the ECPA Book of the Year Award in 2008.
3. Life Application Study Bible
A Life Application Study Bible is designed to help readers apply biblical principles and teachings to their everyday lives. It provides practical insights, guidance, and application notes to help people understand how the Bible's teachings are relevant to life today.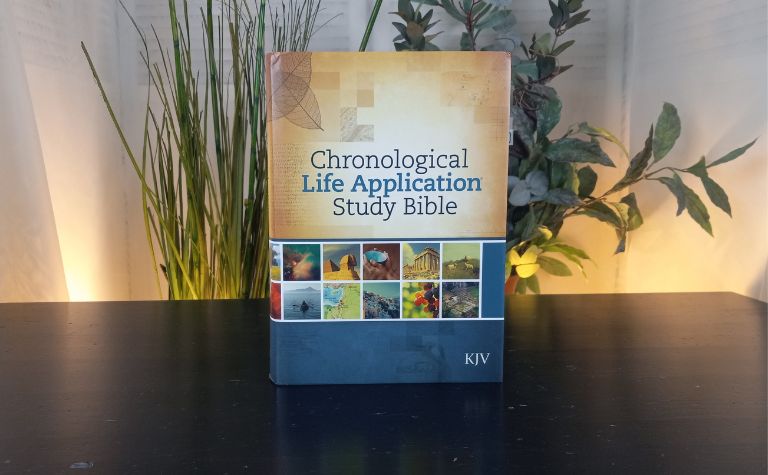 The focus of the notes and features is applying Scripture
A Life Application Study Bible contains notes that provide explanations, insights, and practical applications for specific verses or passages of the Bible. These notes often address questions about how to live out biblical principles in various aspects of life.
The application features highlight how the teachings of the Bible can be applied to real-life situations, challenges, and decisions. These notes offer practical advice, suggestions, and examples to help readers understand how to integrate biblical principles into their daily lives.
5 Study Bibles from Popular Pastors and Personalities
Some well-known pastors and personalities have written notes for Study Bibles so readers who enjoy their teaching can benefit from their insights. The notes tend to be less academic and more pastoral.
John MacArthur Study Bible
Pastor John MacArthur is a prominent American evangelical preacher, author, and teacher. He has been the pastor of Grace Community Church in Sun Valley, California, since 1969. He is also the president of The Master's University and The Master's Seminary, both located in Southern California.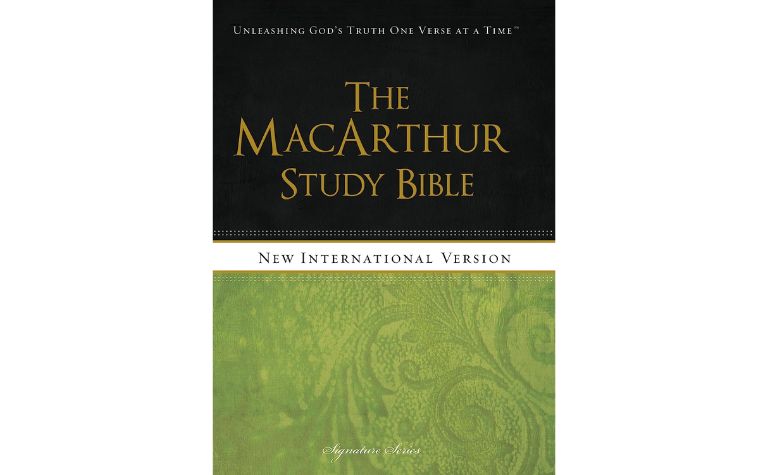 MacArthur is known for his conservative preaching
MacArthur is known for his conservative theological beliefs and his strong emphasis on expository preaching, which involves interpreting and explaining biblical texts verse by verse. He has authored numerous books and commentaries, many of which have become influential resources within evangelical circles.
David Jeremiah Study Bible
Pastor David Jeremiah is a well-known American evangelical preacher, author, and teacher. He is the senior pastor of Shadow Mountain Community Church, a megachurch located in El Cajon, California.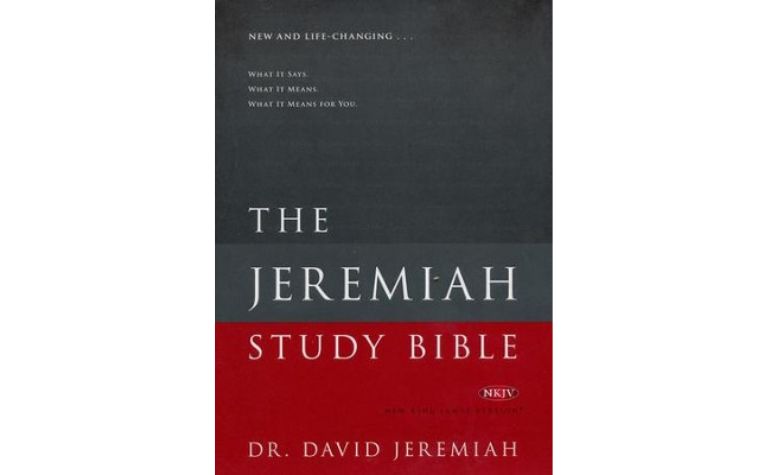 Jeremiah writes a lot about the end times
Jeremiah's ministry spans several decades. He has become a prominent figure in evangelical Christianity. He is widely recognized for his radio and television program called "Turning Point." Jeremiah delivers biblical teachings, practical wisdom, and encouragement to believers through his broadcasts.
Tony Evans Study Bible
Tony Evans is the founder and senior pastor of Oak Cliff Bible Fellowship, a megachurch located in Dallas, Texas. He has served as the church's pastor since 1976. Under his leadership, Oak Cliff Bible Fellowship has grown into a thriving congregation with a diverse membership.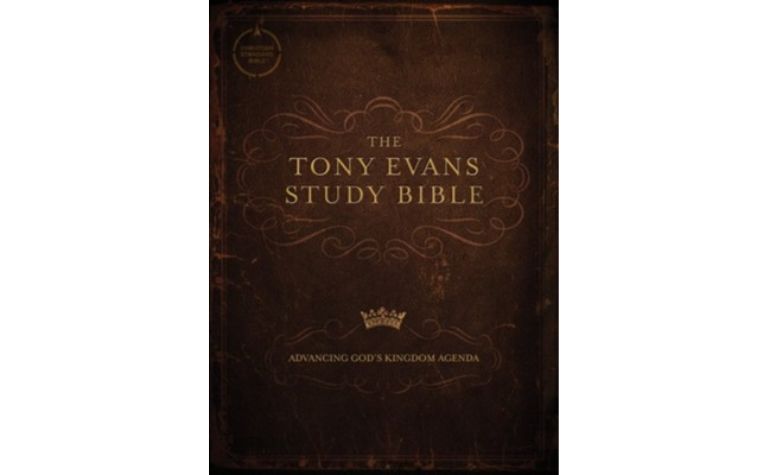 A gifted speaker writes a Study Bible
Evans is a dynamic communicator and has a gift for making complex biblical truths accessible to his audience. He is widely recognized for his ability to blend biblical teaching with practical applications for everyday life. His preaching often focuses on family, relationships, and spiritual growth.
Charles Swindoll Study Bible
Chuck Swindoll is a renowned American evangelical pastor, author, and radio host. He has significantly impacted evangelical Christianity through his teaching, preaching, and writing.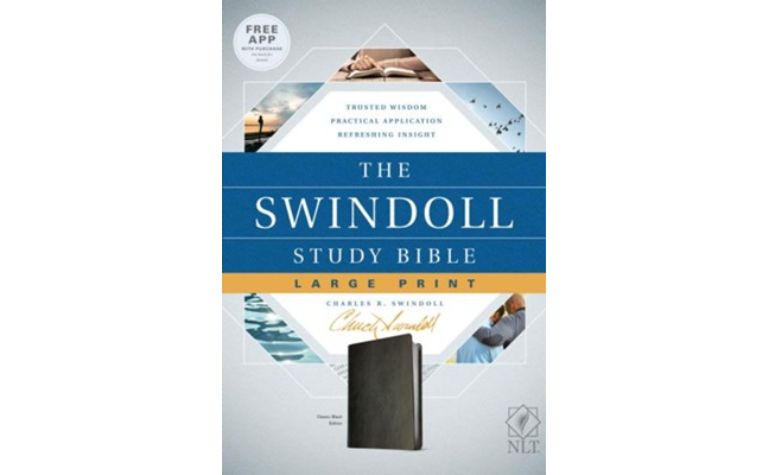 Swindoll has a popular radio show
Swindoll served as the senior pastor of the Stonebriar Community Church in Frisco, Texas, from 1998 until 2020 when he transitioned into the role of Pastor Emeritus. He is widely recognized for his radio program called "Insight for Living," which has been on the air since 1977.
Everyday Life Bible (Joyce Meyer)
Joyce Meyer is a prominent American author, speaker, and Bible teacher. Her ministry is focused on teaching practical applications of the Bible and empowering individuals to live a victorious Christian life.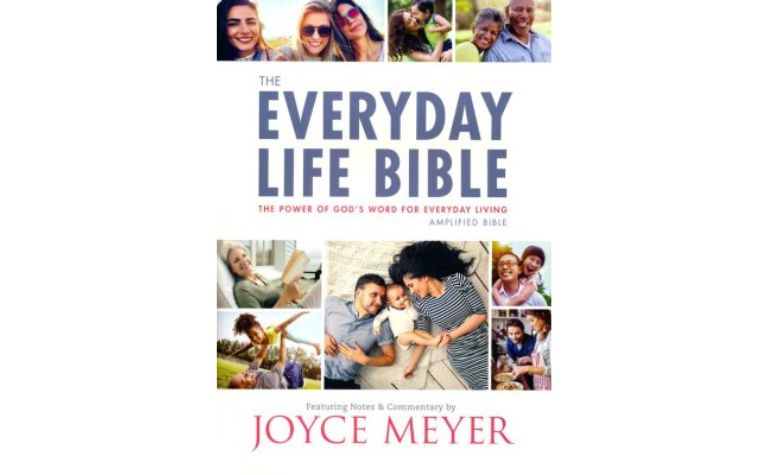 Meyers is a popular teacher on television
Meyer's teachings often address personal growth, relationships, overcoming struggles, and developing a deeper understanding of God's Word. She has authored numerous books covering these topics.
7 More Study Bibles
Key Word Study Bible
The Key Word Study Bible is a type of Bible edition that incorporates additional features to help readers delve deeper into the meaning and usage of specific words found in the biblical text. It is designed to assist in understanding the original languages and nuances of the Scriptures.
For those who enjoy word studies
Word studies provide an in-depth analysis of selected words or terms, including their original Hebrew, Aramaic, or Greek meanings. They often include linguistic insights, definitions, usage examples, and cross-references to related passages.
Lexicons or dictionaries further explain the original meanings and usage of words. They may also offer insights into the cultural and historical context in which the words were used.
Thompson Chain-Reference
The Thompson Chain-Reference Bible is a unique study Bible known for its extensive cross-referencing system. It was first published in 1908 by Dr. Frank C. Thompson and has since become a widely used and recognized resource for Bible study.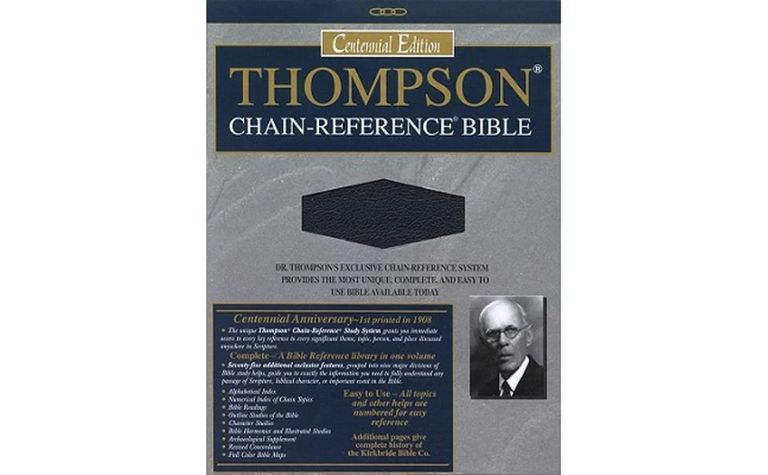 A Study Bible known for chain references
The Bible text is supplemented with a series of numbered chain references. These references connect verses based on shared themes, subjects, or concepts. Each chain reference has a specific number assigned to it, allowing readers to follow the chain and explore related verses.
The margins of the Thompson Chain-Reference Bible contain brief notes that provide additional insights, explanations, and cross-references related to specific verses or topics. These notes assist readers in studying and connecting various passages within the Bible.
Women's Study Bible
A Woman's Study Bible is a Bible edition specifically designed to cater to the needs and interests of women. It often includes features and resources that address topics relevant to women's lives, providing insights, encouragement, and guidance for their spiritual journey.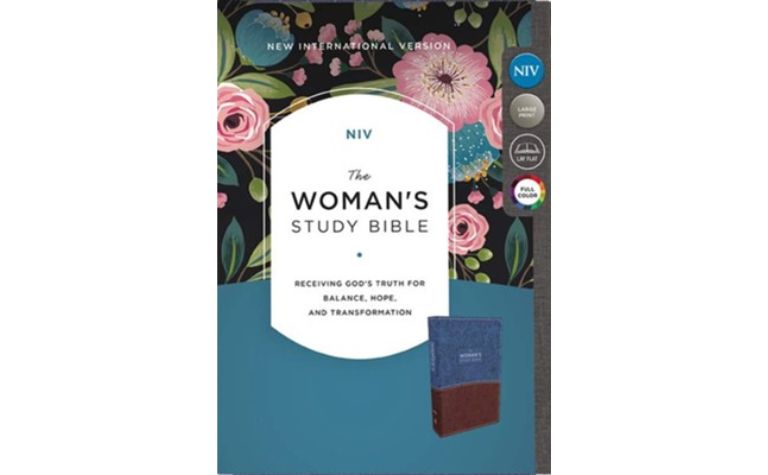 Reflections for women
A Woman's Study Bible typically includes devotional reflections, inspirational stories, and testimonies written specifically for women. These help women connect with biblical principles and apply them to their daily lives.
To facilitate personal reflection and group study, a Woman's Study Bible may include reflection questions, discussion prompts, and study guides. These resources encourage women to engage more deeply with the Scriptures and apply biblical truths to their lives.
Reformation Study Bible
The Reformation Study Bible is a comprehensive study Bible based on the principles and teachings of the Protestant Reformation. It seeks to provide readers with theological insights, historical context, and practical application of the Scriptures from a Reformed perspective.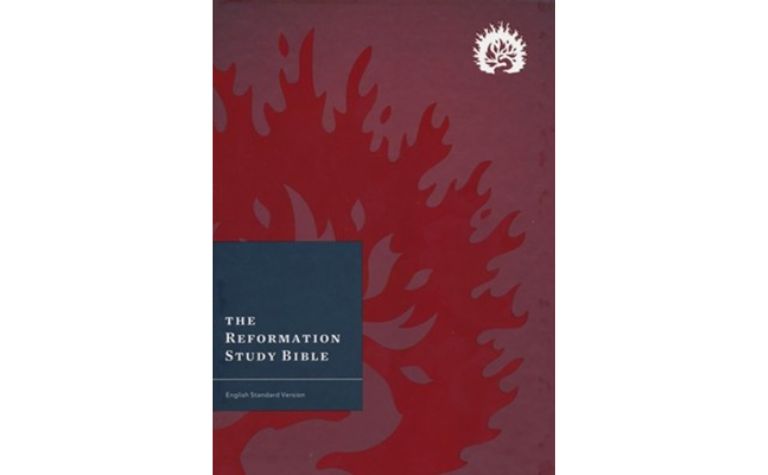 Notes and articles highlight theology
The Reformation Study Bible includes extensive study notes throughout the text, offering explanations, commentary, and theological insights for various passages. These notes often reflect a Reformed theological perspective, providing interpretation and application from that standpoint.
This study Bible often includes theological articles written by respected theologians and scholars. These articles address important doctrinal topics, historical figures, and key theological concepts, providing a deeper understanding of the Reformed faith.
NLT Illustrated
The NLT Illustrated Bible combines the New Living Translation (NLT) text with visual elements, including full-color illustrations, maps, charts, and photographs. It is designed to provide readers with a visually appealing and engaging experience as they engage with the Scriptures.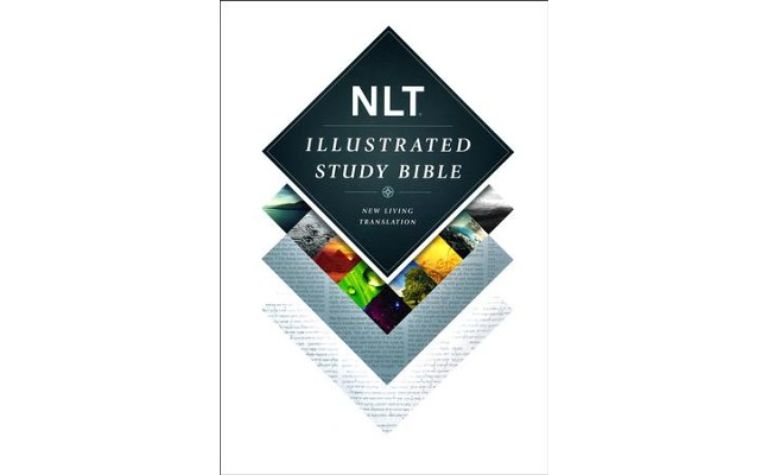 A Study Bible for visual learners
The NLT Illustrated Bible includes numerous full-color illustrations throughout the text. These illustrations often depict biblical scenes, characters, or important events, helping readers visualize the narrative and connect with the stories in a more tangible way.
It has sidebars and infographics that offer additional information, insights, and explanations. These visual elements provide supplementary details, cultural background, and theological commentary to enrich the reading experience.
Cultural Backgrounds Study Bible
The Cultural Backgrounds Study Bible focuses on providing readers with a deeper understanding of the cultural, historical, and social context of the biblical world. It illuminates the cultural background of the Scriptures, helping readers grasp the original meaning and significance of the biblical text.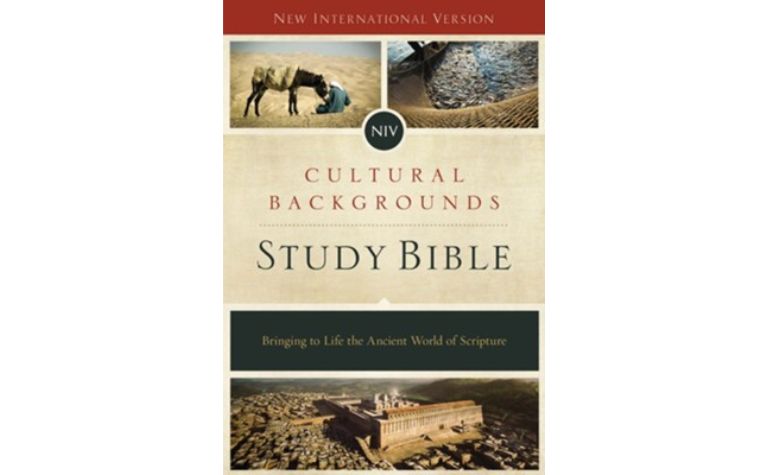 For those who love history
This study Bible includes extensive notes, articles, and commentary that provide insights into the cultural and historical background of the biblical passages. It explores the ancient Near East's customs, practices, beliefs, and social dynamics and other relevant historical contexts.
The Cultural Backgrounds Study Bible incorporates information from archaeological discoveries that shed light on the biblical world. It includes references to archaeological findings, sites, and artifacts, helping readers understand the material culture and historical context of the biblical events.
CSB Study Bible
The CSB Study Bible refers to the Christian Standard Bible (CSB) translation edition that incorporates additional study aids, notes, and resources to assist readers in understanding and applying the Scriptures.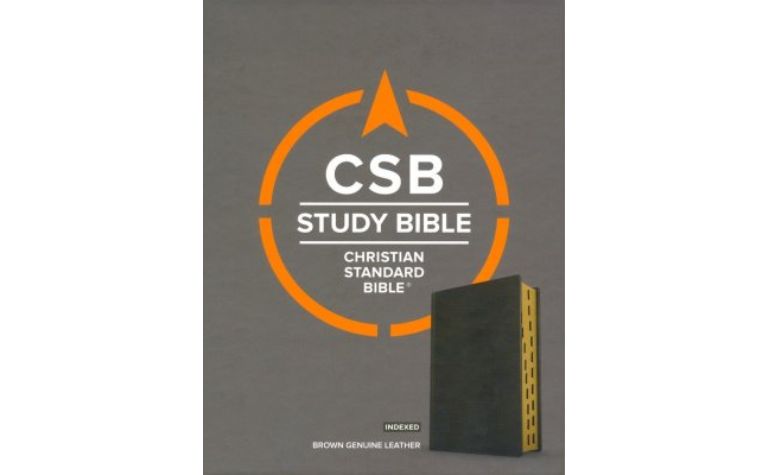 High-quality summaries and overviews
The CSB Study Bible provides introductions to each book of the Bible, offering an overview of the book's authorship, historical background, literary style, and key themes. These introductions set the stage for understanding the context and purpose of each book.
The CSB Study Bible incorporates maps, charts, and illustrations to aid readers in visualizing geographical locations, historical contexts, and biblical events. These visual aids enhance comprehension and engagement with the biblical text.
Related Questions