Philippians 4:8
| | |
| --- | --- |
| ESV | Finally, brothers, whatever is true, whatever is honorable, whatever is just, whatever is pure, whatever is lovely, whatever is commendable, if there is any excellence, if there is anything worthy of praise, think about these things. |
| KJV | Finally, brethren, whatsoever things are true, whatsoever things are honest, whatsoever things are just, whatsoever things are pure, whatsoever things are lovely, whatsoever things are of good report; if there be any virtue, and if there be any praise, think on these things. |
| NASB | Finally, brethren, whatever is true, whatever is honorable, whatever is right, whatever is pure, whatever is lovely, whatever is of good repute, if there is any excellence and if anything worthy of praise, dwell on these things. |
| NIV | Finally, brothers and sisters, whatever is true, whatever is noble, whatever is right, whatever is pure, whatever is lovely, whatever is admirable—if anything is excellent or praiseworthy—think about such things. |
| NLT | And now, dear brothers and sisters, one final thing. Fix your thoughts on what is true, and honorable, and right, and pure, and lovely, and admirable. Think about things that are excellent and worthy of praise. |
Romans 12:2
| | |
| --- | --- |
| ESV | Do not be conformed to this world, but be transformed by the renewal of your mind, that by testing you may discern what is the will of God, what is good and acceptable and perfect. |
| KJV | And be not conformed to this world: but be ye transformed by the renewing of your mind, that ye may prove what is that good, and acceptable, and perfect, will of God. |
| NASB | And do not be conformed to this world, but be transformed by the renewing of your mind, so that you may prove what the will of God is, that which is good and acceptable and perfect. |
| NIV | Do not conform to the pattern of this world, but be transformed by the renewing of your mind. Then you will be able to test and approve what God's will is—his good, pleasing and perfect will. |
| NLT | Don't copy the behavior and customs of this world, but let God transform you into a new person by changing the way you think. Then you will learn to know God's will for you, which is good and pleasing and perfect. |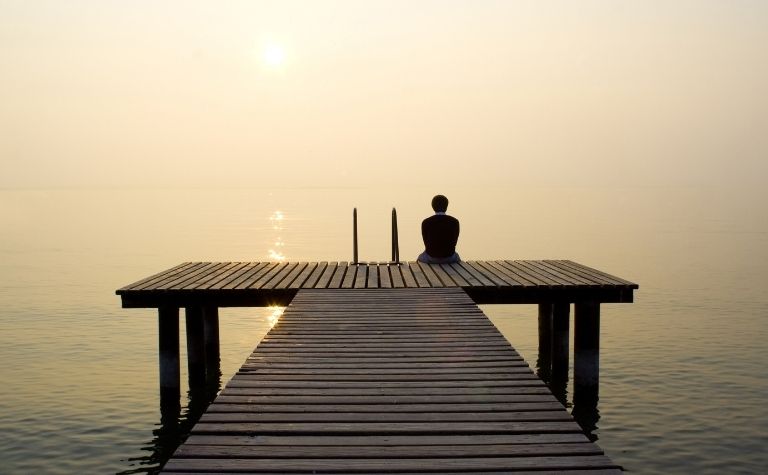 Colossians 3:2
| | |
| --- | --- |
| ESV | Set your minds on things that are above, not on things that are on earth. |
| KJV | Set your affection on things above, not on things on the earth. |
| NASB | Set your mind on the things above, not on the things that are on earth. |
| NIV | Set your minds on things above, not on earthly things. |
| NLT | Think about the things of heaven, not the things of earth. |
"The Bible indicates that our thought lives ultimately determine our character. Solomon said, 'For as he thinks within himself, so he is' (Pro. 23:7)." ~ Jerry Bridges
2 Corinthians 10:5
| | |
| --- | --- |
| ESV | We destroy arguments and every lofty opinion raised against the knowledge of God, and take every thought captive to obey Christ, |
| KJV | Casting down imaginations, and every high thing that exalteth itself against the knowledge of God, and bringing into captivity every thought to the obedience of Christ; |
| NASB | We are destroying speculations and every lofty thing raised up against the knowledge of God, and we are taking every thought captive to the obedience of Christ, |
| NIV | We demolish arguments and every pretension that sets itself up against the knowledge of God, and we take captive every thought to make it obedient to Christ. |
| NLT | We destroy every proud obstacle that keeps people from knowing God. We capture their rebellious thoughts and teach them to obey Christ. |
"Most human beings evidently do not like to think. At the very least, most seem quite satisfied never to think in a concerted, critical, and careful way. [They] never think strategically, consistently, or critically. They go from thought to thought without reflection, analysis, or questioning their own decisions. They operate at the basic level of thinking, and they think about the things that interest them, but they are not seriously interested in the process and quality of thought." ~ Albert Mohler
1 Corinthians 3:18
| | |
| --- | --- |
| ESV | Let no one deceive himself. If anyone among you thinks that he is wise in this age, let him become a fool that he may become wise. |
| KJV | Let no man deceive himself. If any man among you seemeth to be wise in this world, let him become a fool, that he may be wise. |
| NASB | Let no man deceive himself. If any man among you thinks that he is wise in this age, he must become foolish, so that he may become wise. |
| NIV | Do not deceive yourselves. If any of you think you are wise by the standards of this age, you should become "fools" so that you may become wise. |
| NLT | Do not deceive yourselves. If any of you think you are wise by the standards of this age, you should become "fools" so that you may become wise. |
Proverbs 4:23
| | |
| --- | --- |
| ESV | Keep your heart with all vigilance, for from it flow the springs of life. |
| KJV | Keep thy heart with all diligence; for out of it are the issues of life. |
| NASB | Watch over your heart with all diligence, For from it flow the springs of life. |
| NIV | Above all else, guard your heart, for everything you do flows from it. |
| NLT | Guard your heart above all else, for it determines the course of your life. |
2 Timothy 2:7
| | |
| --- | --- |
| ESV | Think over what I say, for the Lord will give you understanding in everything. |
| KJV | Consider what I say; and the Lord give thee understanding in all things. |
| NASB | Consider what I say, for the Lord will give you understanding in everything. |
| NIV | Reflect on what I am saying, for the Lord will give you insight into all this. |
| NLT | Think about what I am saying. The Lord will help you understand all these things. |
Proverbs 15:28
| | |
| --- | --- |
| ESV | The heart of the righteous ponders how to answer, but the mouth of the wicked pours out evil things. |
| KJV | The heart of the righteous studieth to answer: but the mouth of the wicked poureth out evil things. |
| NASB | The heart of the righteous ponders how to answer, But the mouth of the wicked pours out evil things. |
| NIV | The heart of the righteous weighs its answers, but the mouth of the wicked gushes evil. |
| NLT | The heart of the godly thinks carefully before speaking; the mouth of the wicked overflows with evil words. |
Jeremiah 29:11
| | |
| --- | --- |
| ESV | For I know the plans I have for you, declares the Lord, plans for welfare and not for evil, to give you a future and a hope. |
| KJV | For I know the thoughts that I think toward you, saith the LORD, thoughts of peace, and not of evil, to give you an expected end. |
| NASB | 'For I know the plans that I have for you,' declares the LORD, 'plans for welfare and not for calamity to give you a future and a hope. |
| NIV | For I know the plans I have for you," declares the LORD, "plans to prosper you and not to harm you, plans to give you hope and a future. |
| NLT | For I know the plans I have for you," says the LORD. "They are plans for good and not for disaster, to give you a future and a hope. |
Philippians 4:6
| | |
| --- | --- |
| ESV | Do not be anxious about anything, but in everything by prayer and supplication with thanksgiving let your requests be made known to God. |
| KJV | Be careful for nothing; but in every thing by prayer and supplication with thanksgiving let your requests be made known unto God. |
| NASB | Be anxious for nothing, but in everything by prayer and supplication with thanksgiving let your requests be made known to God. |
| NIV | Do not be anxious about anything, but in every situation, by prayer and petition, with thanksgiving, present your requests to God. |
| NLT | Don't worry about anything; instead, pray about everything. Tell God what you need, and thank him for all he has done. |
Proverbs 17:22
| | |
| --- | --- |
| ESV | A joyful heart is good medicine, but a crushed spirit dries up the bones. |
| KJV | A merry heart doeth good like a medicine: but a broken spirit drieth the bones. |
| NASB | A joyful heart is good medicine, But a broken spirit dries up the bones. |
| NIV | A cheerful heart is good medicine, but a crushed spirit dries up the bones. |
| NLT | A cheerful heart is good medicine, but a broken spirit saps a person's strength. |
Recent Posts
link to How Old Was Adam When He Died?
Many Bible readers are fascinated with Adam because he was the first man God created. People know him for naming animals, living in the Garden of Eden, and marrying the first woman, Eve. Yet the...
link to What Language(s) Did Moses Speak?
Moses' childhood was one of the most unique in the Bible. He was born to a Hebrew mother and father from the tribe of Levi, yet an Egyptian woman, Pharaoh's daughter, raised him. Moses' ancestry...